About Joyslyn's Lhasa Apsos...

Our kennel name, obviously taken from our first names, is pronounced "joys" (rhymes with "toys") "lyns" (rhymes with "wins).
Joyslyn's was established in February 1973 when we bought our first Lhasa Apso (Joyslyn's Pheebe) and were so taken with her that we bought another (Joyslyn's Miss Buffy Jo). From Buffy came our first two champions, both sired by BIS American Canadian Champion Arborhill's Rah-Kieh ROM. These dogs were Ch. Joyslyn's Raggedy Rebel (owned by Beth James) and Multiple Group Winning American Canadian Ch. Joyslyn's Piece of the Rock ROM (pictured below). The rest is history.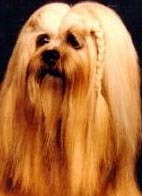 Rocky won his first point from the Puppy Dog class at age 7 months. Of course, by then we were "bitten by the show bug" and were eager to become more involved in showing. When we decided we were serious about showing Rocky, we sent him to handler Marge Lewis at age 13 months. He finished his championship very quickly, earning two five point majors in a weekend, a three point major the following weekend, and the final single the following weekend! When he became a Special, we co-owned him with Ethel Hines. Marge Lewis continued as his handler. Bill Trainer handled him to his Canadian championship. The emphasis on Rocky's career and the expense involved in hiring handlers kept us from showing some of our other Lhasas until after Rocky was retired. However, the excitement of having such a beautiful Lhasa made everything worthwhile! Rocky also sired some wonderful puppies. Look on your pedigrees (back a few generations) and you might find him there!
We breed and show our Lhasas (on a limited basis) and have done so since 1975. We breed for confirmation, of course, but even more importantly, for temperament.
Joyslyn's was proud to earn the American Lhasa Apso Club (ALAC) Register of Merit Breeder Award in 1985.
We feel that the future of the breed lies in serious newcomers. We have always gone out of our way to educate novices, whether they be pet owners or potential exhibitors. From 1976-1996 Joyce contributed a monthly column about Lhasa grooming and training to Dog World Magazine. Joyce also served on the Board of Directors for the American Lhasa Apso Club (ALAC) from 1984-2003, when she was elected Vice President, a term which lasted until 2011. In November 2011, she was again elected to serve on ALAC's Board of Directors. She also serves as ALAC's Membership Chair, a position she has held since 1986, and from 2004-2010 she served as Co-Chair of ALAC's Breeder Education Committee. Other ALAC Committees included Breed Standard (2010) and Judges Education (2010-present). At the 2011 awards banquet, Joyce was honored to be named ALAC's first Member of the Year.
Joyslyn's Lhasa Apsos is an AKC Breeder of Merit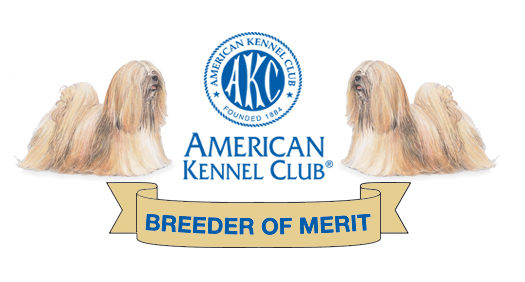 Find out more about Joyslyn's
The Beginnings of Joyslyn's Lhasa Apsos
A Tribute to My Mentor
What to Look for As You Search for A Reputable Lhasa Apso Breeder



Grooming / Resources/ Links / Puppies and Pictures / History/ FAQs/ Is A Lhasa/ Home/ Contact Us/