Joyslyn's Lhasa Apsos
"Lhasa" Links to Other Resources You Will Find Helpful and Interesting

Here you will find great links to all kinds of interesting resources. However, don't forget to come back to visit Joyslyn's website when you finish exploring!
Visit our Lhasa Apso Blog
American Kennel Club An exciting, informative site dealing with all aspects of pure-bred dogs.

Listen to the AKC and AKC Canine Health Foundation Genome Barks Podcasts, a selection of outstanding audio podcasts featuring experts from a wide range of fields. The podcasts cover up-to-date topics related to the current state of canine health research, advances in veterinary healthcare, and best practices in breeding management. New podcasts are added every month.

Claudia Orlandi, author of ABCs of Dog Breeding Home Study Program, is featured in a September 2008 AKC and AKC Canine Health Foundation Genome podcast.

Articles by Joyce Johanson about Lhasa Apso grooming and training.

What to Look for As You Search for A Reputable Lhasa Apso Breeder

Don't be an unsuspecting buyer! What does "champion bloodlines" mean to you? When is a Championship not Really a Championship? Buyers Beware!

Interested in Breed Rescue or in adopting rescued Lhasa Apso? Go to www.lhasaapsorescue.org/

Got a friend who loves Lhasas? Send him/her a Lhasa Apso post card!

Worried about what multiple yearly vaccinations may doing to your pet? Ever wondered why people can get vaccinations as children and never have to have boosters but our pets have to have vaccinations yearly? Read "Are We Overvaccinating Our Pets" by Loretta Baughan.

This link will take you to Fotosearch, an online stock photography company that offers Lhasa Apso pictures, as well as thousands of other dog images. Users can search for images from over 140 publishers at no cost.

Lhasa Apsos, like many other breeds, are prone to an eye problem commonly called "cherry eye." Links on this page will take you to articles on the web about "cherry eye". Note: The authors disagree about causes and treatments.

If you have a light colored Lhasa and are noticing ugly brick-red stains under the eyes, you might find the links to information about tear stains helpful.

Protect your Lhasa Apso and other pets by having them microchipped and registered with the American Kennel Club Companion Animal Recovery program.

Looking for a breeder you can trust? You might read this before you make any calls: Checklist for the Responsible Breeder

Ever thought of being a dog breeder? Read these articles at Breeding Your Own Dog: What You Need to Know Before You Go Any further. Also check out information about a new home study resource, the ABCs of Dog Breeding.

Got kids? Thinking about getting a dog? Already have a dog?AKC site for children contains a lot of helpful information for junior handlers as well as educational materials about dogs for all children.

You might also be interested in "Tails Are Not for Pulling" by Elizabeth Verdick, a board book that teaches young children about treating animals nicely. Use it to introduce appropriate behavior for interacting with pets.

IF YOU NEED HELP PAYING FOR VETERINARY SERVICES, Dr. Nancy Kay, the author of Speaking for Spot: Be the Advocate Your Dog Needs to Live a Happy, Healthy, Longer Life, provides a list of organizations that help people who have financial problems pay for pet care. Some support only emergency situations; others provide pet food and other assistance to seniors and people with serious illness or disability.

Have you ever heard of a smooth-coated Lhasa Apso? They are called "Prapsos" and look a lot like Tibetan Spaniels. Click if you are interested in seeing pictures or reading more about smooth-coated Lhasas.

Interested in reading more about the Gompa Lhasas, direct descendants from the monastary dogs at the Drepung Monastary in Tibet? These dogs were protected by the exiled lama Gyn Yeshe, and their bloodlines have remained untainted and their physical characteristics true to Tibetan monastary Lhasas of old. Colonies of Gompa Lhasas have been established in the U.S. Read about them! Gompa Lhasas.

Visit PAWMARKS to purchase latex bands in a variety of colors and sizes. These are a "must have" for holding eyefall back in a topknot, ponytails or braids. The company also sells show leads, grooming supplies, and no-leak water bottle adaptors (whoever invented these adaptors should win an award!).

Puppy Bows is another website where you can buy latex bands. A bonus is the step by step instructions on how to use the bands to create a topknot.

Nature's Farmacy products are wonderful. We especially appreciate the Dogzymes Canine Paste and the Dogzymes Digestive Enhancer Dissovable Powder. We've been impressed with the service and products this company offers!

NZYMES offers whole food supplement with enzyme-rich nutrients and antioxidant vitamins. Read about products and testimonials.

Tuck is a community devoted to promoting sleep health awareness, and as part of that, they have created some guides for pet owners about how pets, like humans, need an appropriate amount of rest. You can check out some of their work here:
How Much Sleep Do Dogs Need
Pet Sleep Resources

CBD Awareness ProjectFind out about the benefits of CBD oil for your dog.

Here is a list of other companies that sell pet supplies, usually at very reasonable prices. Products include crate, kennels, and exercise pens; vitamins and other nutritional products; shampoos, conditioners, and other grooming supplies; treats and toys; dog beds; collars and leads; and just about anything else your dog might need.

Dog Owner's Guide An on-line newspaper for pet and show dog owners.

Dr. P's Dog Training
This site covers a myriad of topics from general to specific. It will keep you busy for a long time!

Puppy Personality Tests
This article offers a comprehensive guide from YourDogAdvisor.com on using puppy personality tests to find the perfect puppy.

Your Purebred Puppy. Check out this site for training information and a book "Teach Your Dog 100 English Words."

AKC Show Superintendents This site offers names and addresses of show superintendents and provides links to their web sites where you can find information about upcoming shows, counts for closed shows, and results of past shows.


A common question: What kind of dog food do you feed your dogs? The Joyslyn's Lhasas eat Bil-Jac and have done so for years. We are very happy with this brand and the dogs do well on it.
Ch. Joyslyn's Clown Prince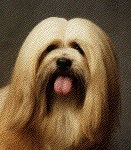 About Joyslyn's / Grooming /Resources / Puppies and Pictures / History/ FAQs/Is A Lhasa/ Home/ Contact Us/